Information for EOSC Synergy course designers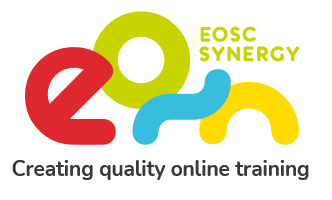 Course planning
We recommend you spend some time planning your course by using the resources in the Analysing and Designing sections of this course. This will help you think clearly about the course content, learning outcomes and your audience.
Make sure you keep notes on any resources that you reuse so you can credit them later.
Important!

We strongly recommend that you create your content outside Moodle and upload as one of the final stages of development.
Branding



For any PowerPoint presentations you create, please use the Synergy template provided .

For Word documents, take a copy of this Word document to use as a template.

Synergy hex colour codes: Red: #be2832, Green: #c9d22a, Blue: #73bbdc, Yellow: #f8db0c

Synergy font is Nunito. Nunito is a Google Font available for download
Licensing
Materials should include a CC-BY licence statement and grant acknowledgement. See below for examples:



Unless otherwise indicated, all materials created by the EOSC-synergy< consortium are licensed under a Creative Commons Attribution 4.0 International License.

EOSC-synergy receives funding from the EU's Horizon 2020 research and innovation programme under grant agreement No 857647.

This document was produced as part of the EOSC Synergy project, licensed under CC BY 4.0 . EOSC Synergy receives funding from the EU H2020 programme (GA No 85764).
Crediting sources
Please provide full details of sources used as close as possible to where you have reused the content or in a separate list at the end of the course/presentation.





Useful sources of images are

Pexels (no attribution required) and The Noun Project

for icons/photos (attribution required).
Accessibility
Please make use of the general tips provided in the Creating inclusive content section of this course. Specific guidelines for different content types are given in the Presentations, Videos and Course Handouts sections.
Making your materials available for reuse
Please provide a text / Word file containing the text from your course along with any presentation and image files used. These should be deposited in Digital.CSIC. Please email the files and metadata to Isabel Bernal.