Creating videos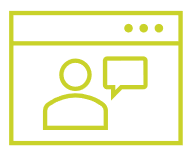 Short instructional videos or filmed presentations can be very useful for building open educational resources online. Orion Open Science has produced a very useful guide to producing quality videos. Some basic principles they recommend are:
Length: in general shorter videos are best, especially if they are tutorials, between 5 and 10 mins is ideal. Full presentations can be longer, 30-40 mins is a good run time.


Visuals: keep things clean and simple, don't have too much on screen and try not to have anything in shot that doesn't need to be e.g. distracting backgrounds, people walking around, too many graphics, or too much writing on the screen.


Audio: people forgive poor audio even less than poor visuals, record in a quiet place with the best equipment you can use. Use WAV rather than MP3 files to reduce loss.


Purpose:

videos need to have a clear focus, if you want to talk about many different things it would be better to have several videos.
See the full guide for further advice.
Creating accessible videos
Accessibility guidelines define accessible video as having:

Subtitles/captions


A transcript

Audio description

A media player that enables users to control using keyboard commands

No flashing images or background distractions
There are a few ways to create subtitles and the right one for you will depend on your learning platform. One of the easiest is
YouTube
which automates subtitle content that you can edit for accuracy. You can also use Microsoft
Stream
to subtitle content and produce an automated transcript.
Otter.ai
is an easy to use app that creates editable transcripts with punctuation, and it detects new speakers - however, depending on the language or accent of speakers, there will need to be time spent correcting small errors.

Given the range of approaches and complexity often involved in quality assuring captions and transcriptions in education, you may wish to consult this dedicated captioning guide.
Live content isn't covered by the accessibility regulations, but if there is a deaf student on an online course, it would be a reasonable adjustment to provide live remote captioning/note-taking or a BSL/English interpreter during classes. For some students the cost of this could be covered by a Disabled Students Allowance that is available in many countries.
You can find more information about accessible videos in this helpful Video guide.