Selecting activities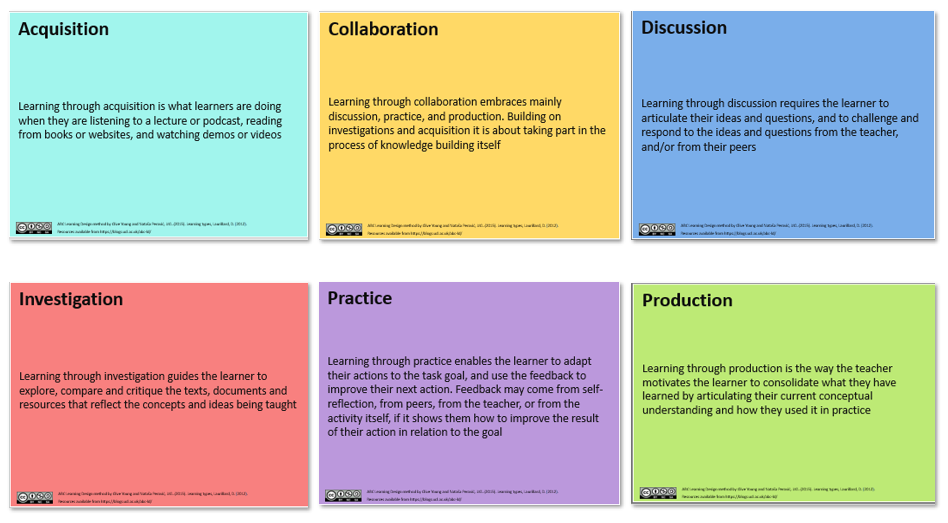 You've already thought about content and likely grouped it into themes or topics. Now you need to select learning activities to deliver this content and reach the learning outcomes you have set.

To help you choose a variety of activities that can enable different levels of learning (remember Bloom's taxonomy!) and keep learners engaged, we suggest using the ABC-Learning design approach which is based around 6 learning activity types. These activity types are based on Professor Diana Laurillard's Conversational Framework.
The 6 learning activity types are described below and on the next page we'll give examples of each type:
Learning through acquisition is what learners are doing when they are listening to a lecture or a podcast, reading from books or websites, and watching demos or videos.
Learning through collaboration embraces mainly discussion, practice and production. Building on investigations and acquisition it is about taking part in the process of knowledge building itself.
Learning through discussion requires the learner to articulate their ideas and questions, and to challenge and respond to the ideas from the teacher and/or from their peers.
Learning through investigation guides the learner to explore, compare and critique texts, documents and resources that reflect the concepts and ideas taught.
Learning through practice enables the learner to adapt their actions to the task goal and use the feedback to improve their next action. Feedback may come from self-reflection, from peers, from the teacher, or from the activity itself, if it shows them how to improve the result of their action in relation to the goal.
Learning through production is the way the teacher motivates the learner to consolidate what they have learned by articulating their conceptual understanding and how they used it in practice.
Watch this 3 minute video where Diana Laurillard introduces the six learning types used in the ABC Learning Design workshop: